Les Trapézistes, circa 1922-1923
Certificate of authenticity of Mrs. Annie Guédras, Périgueux on 13 February 2017
Our drawing is part of a series made by Jean Cocteau about circus people, around 1922-1923 of which here are three more variations: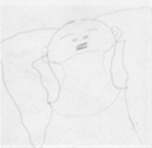 "In contact with clowns, acrobats, jugglers, I learned what the theater was incapable of teaching me. "Jean Cocteau, preface to the exhibition catalog Les Peintres du Cirque, E. Keller, Paris, 1927.
Although the theme of the circus is not frequent for Cocteau, it inspired several artists of the 20th century including Alexander Calder with his famous Calder's Circus, 1926-1931.
It was in 1927 that Cocteau met Calder, who had recently settled in France. In the early 1930s, Calder produced a large number of drawings and wire-sculptures on the theme of the circus.
It is interesting to compare our drawing of Cocteau, Trapézistes, circa 1922-1923 with drawings made in 1931 and 1932 by Calder. On the common theme of the circus, the two artists perform these works with many similarities: a simple uninterrupted feature concentrated on the rendering of the movement. There is the same desire to purify the line to give a light and poetic work.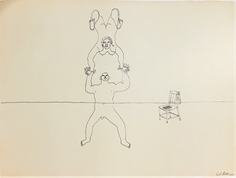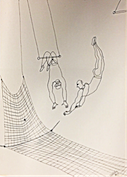 Alexander CALDER Alexander CALDER
The Handstand with Chair, 1931 The Catch II, 1932
Ink on Paper Ink on Paper
Whitney Museum of American Art, NYC MoMa, NYC