In 1924, Walter Halvorsen (1887-1972), painter, art critic and Norwegian art dealer, offered Marquet and his wife Marcelle a guide to visit Norway. In the summer of 1925, they first discovered Oslo and then W. Halvorsen rented a peasant house in Hesnes in a fjord near Grienstadt.
To Marquet's amazement, there is a surprising light and sunshine for a northern country and the artist paints several landscapes during his stay.
The brightness of the Norwegian fjords, days stretching without night, illuminates his palette and this work is a beautiful illustration of the atmosphere of the place.
In November 1925, Marquet will exhibit 117 works at the Bernheim-Jeunes gallery, the result of his work in Norway.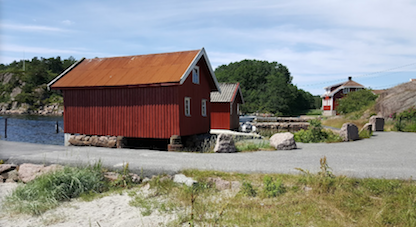 Farmhouses near the lake in Hesnes