Jean
Cocteau
(Maisons-Laffitte, 1889 – Milly-la-Forêt, 1963)
Tauromachie, Circa 1920-1923
Pen and ink on paper
Signed with first name and star lower right Jean ☆
21.2 x 27.1 cm
Provenance :
Former Claude Volney collection, Paris
Exhibitions :
- Jean Cocteau, exhibition for the centenary of the artist's birth in 3 museums in Japan :
. Daimaru, Tokyo, October-November 1988
. The Museum of Modern Museum, Shiga, from January 29 to February 1989
. Daimaru Museum of Art, Osaka Umeda, from 15 to 27 March 1989
- Jean Cocteau, Chosun Ilbo, Seoul, South Korea, 1989-1990
Litrerature :
- Catalogue of the travelling exhibition in Japan, described and reproduced on p. 74, n° 48
- Catalogue of the exhibition in South Korea, described and reproduced on p. 74, no. 48
- Photocopy of the certificate by Mr Edouard Dermit (1925-1995) dated 10 September 1985
- Certificate of authenticity by Mrs Annie Guédras, Périgueux on 17 July 2018
Our drawing by Cocteau from the early 1920s is the only such complete, recorded drawing from this period on the theme of the Corrida. A simpler version of the same subject is illustrated, under the title Jardin Cruel, in Cocteau's first book of drawings, entitled Dessins de Jean Cocteau, published by Stock in 1923.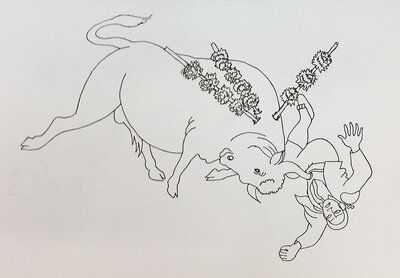 Jean COCTEAU, Jardin Cruel - Drawing published in the book Dessins de Jean Cocteau, Librairie Stock, 1923, p. 108
In the 1950s, Cocteau accompanied his friend Picasso on many occasions to bullfights in Spain and France, which Picasso was passionate about.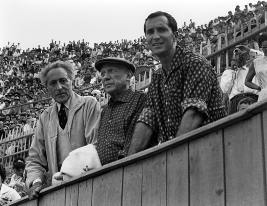 Lucien CLERGUE - Jean Cocteau, Pablo Picasso and Luis Miguel Dominguin at the Arena, Arles 1959 - Silver print
"We had in the Arles bullring the most beautiful bullfight that can be seen. Luis Miguel gave the alternative to the young Parisian bullfighter. In fact, Luis Miguel Dominguin gave a perfect lesson in bullfighting. Without a mistake, without grimaces, without useless imprudence, without bravado. It was a superb show. [...]. As far as the young Frenchman is concerned, he will never be a real bullfighter. He lacks grace and his absurd courage pushes him to disorder. He is "dangerous" and causes discomfort. His Spanish-style bravado is very ridiculous after a mediocre job. Luis Miguel was watching him from afar and was constantly on the point of flying to his rescue. To tell the truth, at the moment of killing, he lost his head. But the audience, having no sense of style, applauded him a lot. He was sure he was an ace. He is mistaken".
(Jean Cocteau, Le Passé défini, October 1958)