Portrait de femme au bouquet de fleurs (Clémence Boitard, première épouse de l'artiste ?), circa 1900-1903
- Certificate of authenticity by Mr. Henry Certigny, dated 9 May 1993
- Certificate of authenticity by Mrs. Dora Vallier, dated 19 November 1995
This Portrait de Femme au Bouquet de Fleurs is the pendant of the Autoportrait au Bouquet de Fleurs from the Brooklyn Museum of New York.
It is very likely that this is the portrait of the late Clémence Boitard, first wife of the artist. Rousseau wanted to pay tribute to his beloved wife using the flower language : "roses for love and forget-me-nots".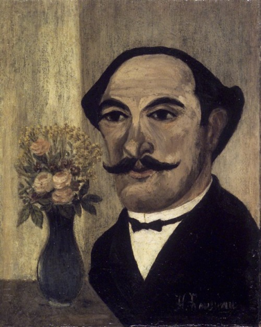 Le Douanier Rousseau, Autoportrait au bouquet de fleurs, circa 1900-1903, oil on canvas, 18,7 x 14,6 cm - Brooklyn Museum, New York, USA
On the 14th of August 1869, Henri Rousseau, 25 years old, got married to Clémence Boitard, 19 years old. The couple had 7 children amongst whom only one will become an adult. After 18 years of marriage, Clémence passed away on the 7th of May 1888, before her 38th birthday.
Henri Rousseau got married again on the 2nd of September 1899 with Joséphine-Rosalie Nourry.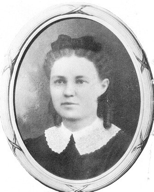 Jeanne-Désirée-Clémence Boitard, first wife of Henri Rousseau. photography
Henri Rousseau, 63 years old and reflecting his past, wrote a letter on the 19th of December 1907 in which he confided that he had adored his first wife, who unfortunately had tuberculosis. He wrote: ". . . ma pauvre femme . . . quitta cette terre . . . après vingt ans de pure union sacrée, chacun vivant pour l'autre . . . ces vingt années furent la joie de ma vie . . ." "J'étais seul. Le grand vide; surtout les deux yeux, qui m'ont tellement manqué dans ma vie. Ah! Cela aurait été mieux si j'étais, moi-aussi, parti avec elle." Henri Rousseau composed a waltz which he called « Clemence », which was published by the Académie de Littérature et de Musique de France.
In 1899, Rousseau recopied a painting realized in 1890, a double portrait with Rousseau himself and Josephine. Above them, in the clouds, there are two faces : the young Rousseau and his first wife Clémence.
Rousseau entitled his painting Le Passé et le Présent with the following text :
« Etant séparés l'un et l'autre
De ceux qu'ils avaient aimés.
Tous deux s'unissent de nouveau,
Restant fidèles à leur pensée ».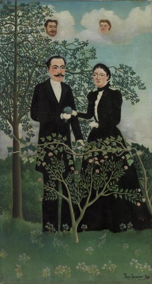 Le Douanier Rousseau, Le Passé et le Présent ou Pensée philosophique, 1891 , oil on canvas, 84,5 x 47 cm - The Barnes Foundation Philadephia, USA
Around the same period of our Portrait de Femme au Bouquet de Fleurs, Henri Rousseau also realized another pair of portraits representing himself and his second wife, each with an oil lamp instead of a vase of flowers.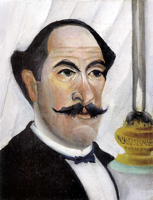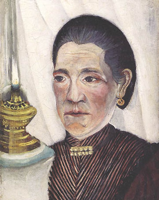 Le Douanier Rousseau - Portrait de l'artiste à la lampe, c. 1900-1903 - oil on canvas, 23 x 19 cm - Musée Picasso, Paris // Portrait of the second wife of the artist, c. 1900-1903 - oil on canvas, 23 x 19 cm - Musée Picasso, Paris
These two famous paintings were part of Picasso's personal collection, a great admirer of Douanier Rousseau. Picasso never sold those two small portraits, and according to a biographer of Picasso when the Catalan master finished a painting he compared it to these two portraits.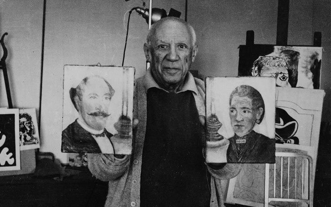 Picasso in his studio with his two portraits by Douanier Rousseau - Photography
The Galerie de l'Effort Moderne (1924-1941) is an art gallery created by Léonce Rosenberg, located nr 19, rue de la Baume in Paris. Léonce Rosenberg (Paris, 1879 - Neuilly-sur Seine, 1947), was one of the first defenders of Abstract Art and Cubism, which he discovered thanks to the art dealers Ambroise Vollard and Wilhelm Uhde in 1911 and thanks to Daniel Henry Kahnweiler in 1912. Since then, Rosenberg started to collect paintings by Picasso, Braque, Gris, Herbin, Leger, Severini, Csaky, Laurens, Valmier, Gleizes, Metzinger. During the First World War, he was amoung the first to collect those works and to be a moral and financial support for those artists. After the Great War, he found himself ruined but exposed the works he possessed in his Galerie de l'Effort Moderne and opened to all forms of Cubism ; he also showed Mondrian, Ozenfant and Picabia. In his gallery, he also organized literary and musical meetings. The art collections of Kahnweiler and Uhde were sequestered at the beginning of the First World War (including works by Braque, Dufy, Gris, Laurencin, Herbin, Léger, Metzinger, Picasso and Henri Rousseau). Several public sales at the Hotel Drouot in 1921. Léonce Rosenberg was designated as the expert of these sales. The Galerie de l'Effort Moderne closed definitively in 1941, as a result of anti-Semitic laws.
Wilhelm Uhde (1874-1947) was a Collector, a gallery owner and a critic of German art. He worked mainly in Paris and played an important role in the history of the early 20th century French painting. After Italy, Uhde moved to Paris in 1904, where « la beauté était omniprésente » ; there he met Ambroise Vollard, Kahnweiler and Gertrude Stein. He began to buy works by the still unknown Picasso and Braque. He also contributed to making known the Primitiv Painting, and in particular the works of Henri Rousseau. Uhde organized Rousseau's first solo exhibition in 1909 and published in 1911 Rousseau's first monograph.