Sans titre, 1949
Certificate of authenticity by Mr. Eskil Lam, Paris on November 28, 2017
In November 1942, the Pierre Matisse Gallery in New York organized its first solo exhibition Wifredo Lam. In June 1944, it devoted a second exhibition to him, then a third one in November 1945. The Pierre Matisse Gallery realized other solo Lam exhibitions in 1948 and then in 1950.
In the forties, Lam painted one of his greatest masterpieces, The Jungle, (1943), acquired by the MoMA, New York, in 1945. From that time, Lam's works developed political messages of denunciation and protest as well as esoteric symbols. The painter says, "So I started making paintings in the African direction." He drew on the magical world of his childhood, drawing inspiration from Oceanian art but also from Cuban religious ceremonies such as the Santería or the Afro-Cuban initiatory rites of the secret society Abakuá. The presence of occult elements became more dominant in his work from 1947 and his work gained international momentum.
Our watercolor, Sans Titre, executed in 1949 combines themes very representative of the art of Lam. It is composed in the form of a diptych with on the left, a totem and on the right, a Woman-Horse inspired by the cult Santería. In Lam, the Woman-Horse does not designate a mythological creature half-woman half-horse but a woman possessed by a deity called oricha. The transformation into a horse is the very condition of entry into a trance.

Wifredo Lam - Totem à la Lune, 1955-57 - Oil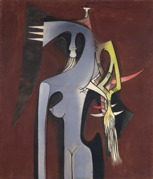 Wifredo Lam - Zambedia Zambedia, 1950 - Oil on canvas - Solomon R. Guggenheim Museum, New York