Cesar Baldaccini dit
Cesar
(Marseille, 1921 - Paris, 1998)
Le Gari, 1954
Original bronze proof with nuanced bronze patina
Cast iron of Fonderie Susse executed in 1979
Mark of the founder under the left paw Susse Fondeur Paris
Signed on the right side César
Numbered on the right hand side 5/8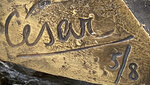 Height: 35 cm / Width: 44 cm / Length: 48 cm

Welded iron designed in 1954
The bronze edition was produced during the artist's lifetime, between 1978 and 1990 as follows:
- The proofs 1/8 to 4/8 + EA 1/2, by Valsuani Fondeur in 1978
- The proofs 4/8 + 5/8 + 7/8 + EA 2/2, by Susse Fondeur in 1979
- The proofs 6/8 + 8/8 + 2 HC proofs, by Bocquel Fondeur in 1990
Due to an error, there were probably melted 2 copies of 4/8
Provenance :
- Galerie Beaubourg, Paris
- Private collection

Exhibitions:
- César, Galleria Galatea, Turin, from March 25 to April 20, 1966, the welded iron presented in the catalogue under n ° 13
- César, Galleria il Fante di Spade, Rome, from April 21 to May 5, 1966, the welded iron presented in the catalogue under number 13
- Trois sculpteurs, César, Roël d´Haese, Tinguely, Musée des Art Décoratifs, Paris, from June to September 1965, the welded iron presented in the catalogue under n ° 28
- César Œuvres de 1955 à 1966, Galerie Madoura, Cannes, July 1966, catalog with text by Dooglas Cooper, the welded iron presented and reproduced in the catalogue under number 18
- César Rétrospective, Musée Cantini, Marseille, October to November 1966, the welded iron presented in the catalogue under number 35
- César sculptures 1950-1980, Galerie Beaubourg, Paris, from September 24 to October 18, 1980, catalogue with texts The question of sculpture by Pontus Hulten and César of a block by Bernard Lamarche-Vadel, another test presented
- César, Fondation Veranneman, Kruishoutem, from March 28 to May 2, 1981, another proof presented
- César, Museum of Modern Art, Parc Boverie, Liège, from February 13 to March 28, 1982, another proof presented in the catalogue under number 4
- César, Pavillon des Arts, Paris, from February 23 to April 7, 1983, another bronze proof presented and reproduced in the catalogue
- César Bronzes, Musée de la Poste, Paris, from February 2 to March 10, 1984, another proof presented in the catalog under number 2
- César, 10th Salon of the Cultural Association of Avranchin and Mortainais, Château du Logis, Brécey, 1985, another proof presented
- César 1955-1985, Museum of Contemporary Art of Dunkirk, Dunkirk, from November 16, 1985 to January 7, 1986, another test presented
- César, Gana Art Gallery, Seoul, from July 13 to 23, 1988, another proof presented
- De Matisse à aujourd'hui, Matisse Museum, Le Cateau-Cambrésis, from February 15 to April 26, 1992, another proof presented in the catalogue on p. 228 under No. 119

Bibliography:
- César, Artistes no. 6, X-XI by B. Lamarche-Vadel, 1980, another proof on p. 19
- César ou les métamorphoses d'un grand art by Jean-Charles Hachet, Varia editions, Paris, 1989, another proof on p. 73 under No. 142
- César, Catalogue raisonné, volume I, 1947-1964 by Denyse Durand-Ruel, éditions de la Différence, Paris, 1994, welded iron and the bronze edition described on p. 70, the iron reproduced on p. 71 under n ° 64
Certificate of authenticity of Mrs Denyse Durand-Ruel
Le Gari is part of the Imaginary Animals series created by César from 1953. The sculptor may have been inspired by exotic animals such as the hippopotamus, the platypus or the capybara to create this strange and hybrid creature, both massive and baroque, composed of heterogeneous elements.
Everything is mysterious in this sculpture up to the name chosen by Cesar, Le Gari, whose dictionary definition means both Moroccan semolina or cassava flour, as in zoology, a variety of fish otherwise called the common motelle. But in Provence, the Gari sometimes affectionately indicates a child.

The original bronze edition of this sculpture was executed between 1978 and 1990 by three different founders, first Valsuani, then Susse, then Bocquel, either with base or without base as is the case here.